Number learning is one of the most important things for 4-year-olds. It helps them develop a strong foundation for math and other academic skills. There are many ways to teach numbers to 4-year-olds.
In this blog post, we'll discuss some simple strategies for teaching your 4-year-old how to count. We'll provide tips on how to introduce number learning at home, in the classroom, and at play.
So if you're looking to help your child learn how to count, read on for tips on how to do it the right way!
How Do I Teach My 4-Year-Old Numbers?
There are a number of ways you can teach your child numbers.

You can use counting games, songs, and rhymes to help her learn. You can also point out numbers when you're doing everyday activities like cooking or driving in the car. And don't forget to make it fun!

The more enjoyable the learning process is for your child, the more likely he is to retain what he's learned. Here are a few ideas to get you started:
1. Play counting games together. Games like "I Spy", "What's Missing?" and "20 Questions" are great for helping kids learn to count. You can also find a variety of online counting games that both you and your child can enjoy together.
As they play, point out the numbers on the pieces and have them say them aloud. You can also find online games and apps that focus on teaching numbers and counting skills.
2. Sing songs with numbers in them. Songs are a great way to help kids learn new information, and there are plenty of songs out there that focus on numbers and counting (think: "The Wheels on the Bus" and "Ten Little Indians"). YouTube is a great resource for finding number-themed songs for kids of all ages.
3. Read books about numbers together. There are tons of great picture books out there that introduce young children to basic number concepts in a fun and engaging way. A few of our favorites include "One Fish Two Fish Red Fish Blue Fish" by Dr. Seuss and "The Very Hungry Caterpillar" by Eric Carle.

Checking out books from the library is a great way to try out different titles without having to spend any money. Plus, it's an opportunity for some quality one-on-one time between you and your kiddo.
4. One way to teach your 4-year-old numbers is to have them count objects around the house. Start with small groups of objects, such as three toy cars or four blocks. As they count, point to each object and say the number out loud.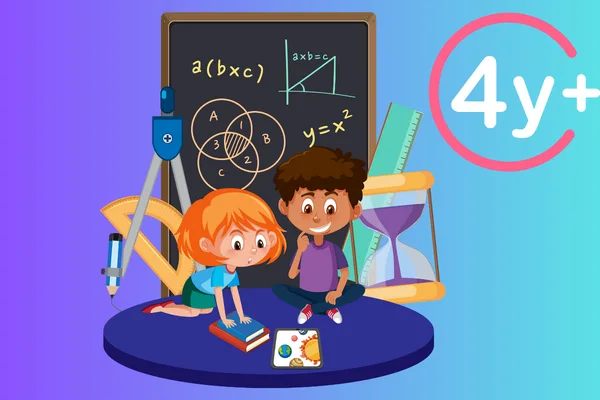 How Can I Help My 4-Year-Old With Number Recognition?
1. One of the most important things you can do to help your child with number recognition is to provide them with opportunities to explore numbers in their everyday life. Start by pointing out numbers around the house, such as on the door or clock.
2. You can also count objects together, such as how many toys are in their toy box. As they get older, you can begin introducing simple addition and subtraction concepts.
2. Another great way to help your child with number recognition is through books and songs. Look for children's books that focus on counting or introduce basic math concepts. There are also lots of great educational songs about numbers that your child will love singing along to.
3. Finally, don't forget to praise your child when they demonstrate an understanding of numbers – this will encourage them to keep learning more!

If your child is having difficulty recognizing numbers, there are a few things you can do to help them out.
1. One way to help your child learn number recognition is by using flashcards. You can find these at most stores that sell educational materials. There are also a number of free printable number recognition worksheets available online.
2. Another option is to use toys and games that focus on counting and identifying numbers. Many of these are available for purchase at toy stores or online retailers specializing in educational toys.

3. If you're looking for something more low-key, try incorporating number recognition into your everyday activities with your child. Point out numbers when you're driving, reading aloud from a book, or even when cooking dinner together.
The more exposure your child has to seeing and hearing numbers, the easier it will be for them to learn to recognize them themselves!
What Math Should a 4-Year-Old Know?
Math is an important subject for four-year-olds to start learning. They need to learn basic concepts such as numbers and counting, shapes, patterns, and simple addition and subtraction. These concepts will give them a strong foundation to build on as they continue their education.

There are many ways that parents can help their four-year-olds learn math.
One way is by providing opportunities for them to count objects around the house or while they are out and about.
Another way is by helping them identify shapes in the world around them.
You can also encourage your child to look for patterns everywhere they go – in the clothes they wear, the food they eat, or even in nature.
Addition and subtraction are also important concepts for four-year-olds to learn.
You can start with simple addition by having your child count along with you as you add up a group of objects. Then, once they have mastered that concept, you can move on to teaching subtraction in a similar way.
It's important to make sure that your child understands that addition and subtraction are inverse operations – so if they know how to add two numbers together, they should also be able to subtract one number from another.
Learning math doesn't have to be all work and no play – there are plenty of fun games and activities that can help your four-year-old master these essential concepts.

There are many great resources available online or at your local library that can give you some ideas on how to make math time more fun for your little learner. With a little patience and creativity, you can help your four-year-old develop strong math skills that will serve them well throughout their school years and beyond!
Counting Activities for 4-Year-Olds
Counting is a fundamental building block for more complex mathematics, and there are plenty of fun counting activities you can do with your 3-4-year-old. Here are a few ideas to get you started:

1. Make it a game: Turn everyday activities into opportunities to count. For example, when you're getting dressed in the morning, have your child count how many items of clothing you're putting on. As you make breakfast, count how many eggs you crack open. While driving in the car, see how many red cars you can spot.
2. Use manipulatives: Manipulatives are objects that can be moved around and manipulated, such as counters or beads. They're great for helping children visualize numbers and concepts like addition and subtraction. Use them to create simple maths problems for your child to solve – for example, "If I have 2 beads here and 3 beads here, how many beads have I got altogether?"
3. Get creative with art: Art is another great way to incorporate counting into everyday life! Try making patterns with colored crayons or paints – encourage your child to continue the pattern by adding the same number of colors each time. You could also use dot stickers to make simple pictures, and count how many dots are in each one (e.g., 5 yellow dots and 3 blue dots).
Teaching Numbers to Preschoolers
Teaching numbers to preschoolers can be a challenge, but it is important to start them off early so they have a strong foundation for later math skills. Here are some tips to make teaching numbers fun and engaging for both you and your little ones!
1. Start with the basics. Before jumping into addition and subtraction, make sure your child understands what numbers are and how to count. This may seem like a no-brainer, but many preschoolers don't really understand the concept of numbers until it is explicitly taught to them.
2. Make it interactive. Games and activities are a great way to teach numbers while also keeping your child engaged. There are tons of great number games out there that can help reinforce counting and number recognition skills.
3. Use everyday objects. Incorporate numbers into your daily routine as much as possible. Count steps as you walk up the stairs, cars as you drive down the street, or plates as you set the table for dinner. By pointing out numbers in everyday life, your child will start to notice them everywhere!
Conclusion
In this blog post, the author discusses number learning for 4-year-olds. They state that four is a difficult age for many reasons. First, they are at the cusp of becoming independent thinkers and often want to do things their own way. Secondly, they have not yet developed the ability to see the world from another person's perspective, which can make it hard to understand why someone might think or do something differently than they would. Finally, four-year-olds are still in the process of mastering basic concepts like numbers and counting. The author goes on to say that there are a few things parents and caregivers can do to help four-year-olds learn about numbers.